What is GIS?
Sharing geographic information by GIS: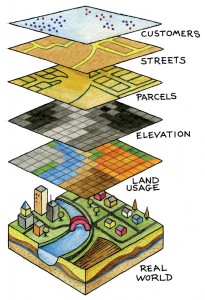 Map
GIS is an abbreviation for Geographic Information System. Map data is required as a foundation of the system. We prepare map data required for performing the business, 1/25,000 topographic maps, city planning maps, aerial photographs and like, as the foundation.
Database
We associate database, Excel or Access data, required for the business with attributes of system and link it to necessary data.
Materials and Data
We organize data to link attributes. As a result, we can mutually link maps and database.
Sharing Geographic Information by GIS
We can share geographic information created with Integrated GIS or in department unit. We practice effective utilization of the information without unnecessary expenses and labor costs because we can exchange the data fast and easy.
Type of GIS System
GIS can be used to customize to various kinds of business. We give a hearing to business details and provide an efficient system.
・For effective utilization in lifeline‐related facilities, water supply and sewage and so on
・For facility managements of various structures such as Road and its incidental facilities, river, bridges
・To create disaster hazard maps such as flood and sediment disaster
Building System
Work Contents and Considerations
Collecting, organizing and hearing information. We investigate the storage condition of the materials to collect and organize. If the information necessary for database are insufficient, we re‐investigate whether other materials can be used as an additional information. We optimize the information data by such investigations. We conduct survey to understand requests of each management staff and investigate
the function improvements necessary for the system.
Considering the system function and specification data. We efficiently use each menu of maintenance and control, and design specifications to extract stored information immediately. We consider the data specification by using the materials we have investigated to define the database with repairing and updating plan.